Welcome to BODYCARD.NL !!!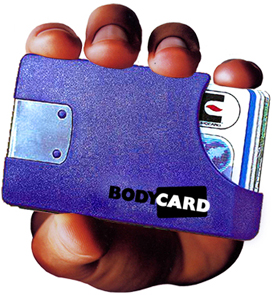 Creditcards, Debetcards, Loyaltycards, Companycards, etc, etc. We 
already have to much cards and in the near future even passports and 
public transportation tickets will appear "on card". Cards like these come 
in handy but where to store them?

The BODYCARD® is the wallet of today. It protects, stores and shows 
all your cards in a usefull way.

On this website you will find information about the BODYCARD®:
• the purpose and use of the Product;
• the succesof it as a premium Gift;
• as a countertop product in your Shop;
• about DSI products, the designers of this and other succesful premium 
   gift items.